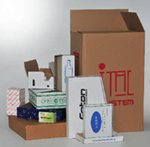 The Packaging company EMPAK was founded in 1993. Years of experience, equipment and staff who has been with the company since the beginning allow us to provide high quality. We focus on individual clients needs. EMPAK provides packaging solutions for diferentes specific types of industry, responds to every need of the market. Our company offering a wide range of products and custom boxes. We emphase on the quality, price and delivery time.
Why you should choose us?
Our experience will allow you to work smoothly.The strategy of our company focus on an individual clients needs.You can always count on our assistance in matters relating to packaging, procurement and delivery.
Our specialists will help you in choosing the appropriate packaging for your product.
Quality and timeliness - will allow you to avoid problems and downtime in manufacturing
Good price - adequate to the quality, reduce your costs.